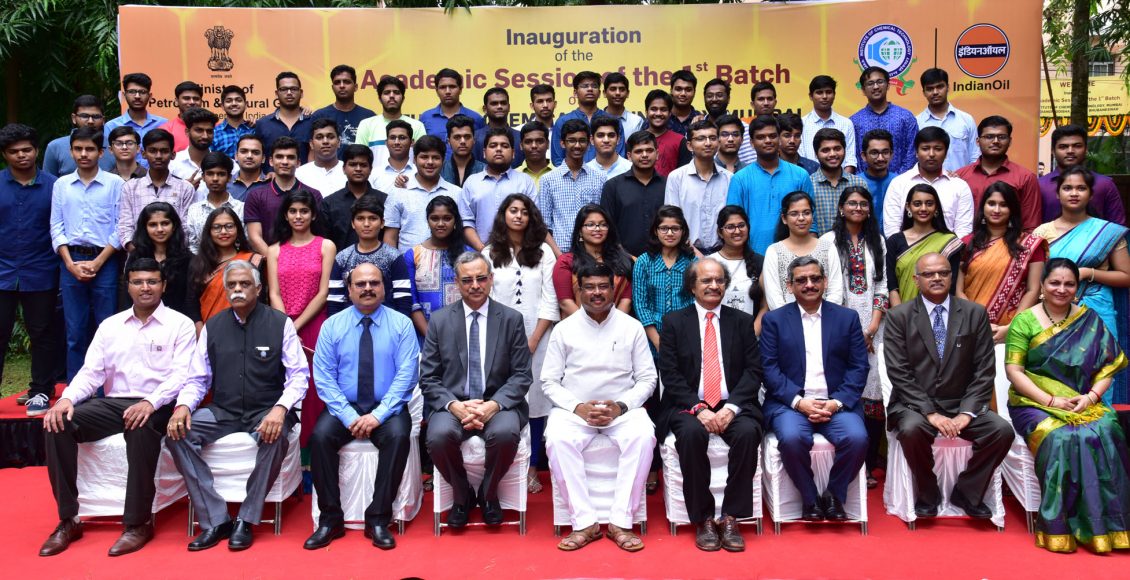 Union Petroleum Minister inaugurates academic session of first batch of M.Tech at ICT Mumbai-IOC Bhubaneswar campus
Bhubaneswar: Shri Dharmendra Pradhan, Union Minister of Petroleum and Natural Gas, Skill Development and Entrepreneurship, inaugurated the academic session of the first batch of 5-year Integrated M.Tech course in Chemical Engineering at the ICT-IOC Bhubaneswar campus here today. The new campus is an extension of the reputed Institute of Chemical Technology (ICT), Mumbai, in partnership with Indian Oil Corporation Ltd. (IOC).
Shri Sanjiv Singh, Chairman, IOC; Prof. GD Yadav, Vice-Chancellor, ICT-Mumbai; Dr. SSV Ramakumar, Director (R&D), IOC; Shri Ranjan Kumar Mohapatra, Director (HR), IOC; and Prof. BN Thorat, Director, ICT-IOC Odisha campus were also present on the occasion.
Congratulating the first batch of M.Tech aspirants after formally launching the academic session, Shri Dharmendra Pradhan urged the aspiring and energetic youngsters to focus more on entrepreneurship and become employers rather than employees to be able to play a greater role in nation-building. He added that the Hon'ble Prime Minister's vision for a New India is to increase the GDP through industrialisation, employment generation and raising the living standards of people in eastern India through creation of a hub of industries based on local resources catering to all sections of society.
Speaking on the occasion, IndianOil Chairman, Mr. Sanjiv Singh said, "We in IndianOil have implemented many projects worth crores of rupees, including our latest refinery at Paradip, but it is a special feeling to be associated with this academic institution, which will mould thousands of youngsters who would lead the Petroleum and Chemicals sectors of tomorrow."
Complimenting IndianOil for partnering ICT-Mumbai in setting up its Bhubaneswar campus, Prof. GD Yadav, VC, ICT-Mumbai, said that this is the first time a corporate house (IOC) is supporting the cause of education in such a big way after Indian Institute of Science, Bengaluru, by the Tata group. He elaborated on his personal vision that "academicians must support India to go the next level by developing indigenous technology and talent."
The objective of IOC-ICT partnership is to extend peer expertise of ICT, Mumbai, in the field of Chemical Science & Engineering and Technology by providing best-in-class academic and research facilities in Bhubaneswar.
This institute will ensure improved quality and industry relevance in curricula development in the field of Chemical Engineering, Petrochemicals, Textiles, Polymers, Foods, Pharmaceuticals, Energy etc.
The institute will offer 5-year Integrated M. Tech. in Chemical Engineering, Executive M.Tech. in Chemical Engineering for working professionals, besides offering Ph.D. programmes.
ICT-IOC Bhubaneswar campus was formally inaugurated by Hon'ble President of India (through remote link from IIT Bhubaneswar) on 18th March, 2018 in the august presence of Shri Dharmendra Pradhan and other dignitaries.
Founded in 1933 as University Department of Chemical Technology (UDCT) of the University of Mumbai, the parent institute was granted deemed university status and renamed as Institute of Chemical Technology, Mumbai.
ICT is a premiere institute for Chemical Technology, ranked 10th amongst engineering colleges in the recently announced NIRF 2018. It has produced 19 Padma Awardees and 500 entrepreneurs.