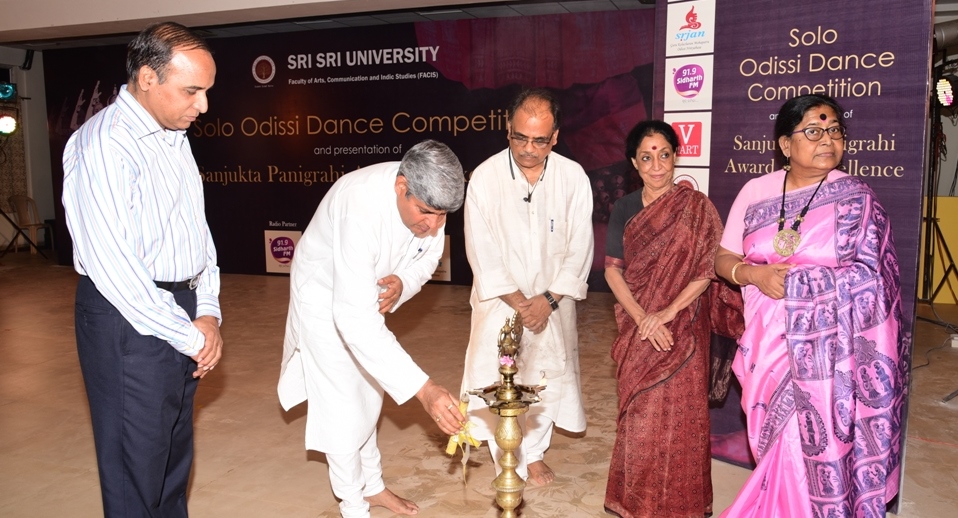 Sri Sri University, organized a National Level Solo Odissi Dance Competition
Bhubaneswar: Faculty of Arts, Communication and Indic studies (FACIS), Sri Sri University, organized a National Level Solo Odissi Dance competition, held at their campus. The event was one of its kind with forty seven candidates from different parts of the country participated. The event was held in the memory of Late Padmashree Sanjukta, who, along with her godly Guru, Padmavibhushan Guru Kelucharan Mohapatra, catapulted the status of Odissi and put it high up on the global cultural map. The competition was conceptualized by Guru Ratikant Mohapatra, Dean, FACIS and Director, Srjan. Amongst the forty seven participants, there were three prize winners.


The first prize winner, Santosh Ram, received a cash prize of rupees fifty thousand, sponsored by Akshya Parija Foundation and was conferred with the Sanjukta Panigrahi award of excellence. The second prize winner Sourav Mohanty, received a cash prize of rupees thirty thousand and the third prize winner, Ananya Parida, received a cash prize of twenty thousand rupees. Besides the prize winners, every participant was given a certificate of participation. The competition was judged by internationally renowned and senior Odissi dancer Smt Madhavi Mudgal, Padmashree Awardee and Dr Mohua Mukherjee, senior and globally acclaimed Gaudiya Nritya exponent.The programme was inaugurated by the Vice Chancellor of Sri Sri University, Dr B R Sharma along with Smt Madhavi Mudgal and Dr Mohua Mukherjee, who were escorted by Guru Ratikant Mohapatra.


The evening witnessed a scintillating performance by the globally renowned Srjan ensemble, who performed three pieces, Chandrachuda, an invocation to Lord Shiva. The original verses of this piece are by Purandara Dasa and have been translated into Sanskrit by Pandit Nityananda Mishra.The second item was an experimental piece, Meepa, that explored the myriad movements of the Odissi vocabulary.Based in its entirety on variant dance movements, this experimental choreograph does not conform to the traditional scriptures that govern Odissi, but aims to transcend the present repository of moves. Set to Aadi Tala, in 16 beats, Meepa does not fall in the ambit of any Raga, and is characterized by impressionistic interpretations of steps within Chowka and Tribhangi, the basic frames of Odissi dance.