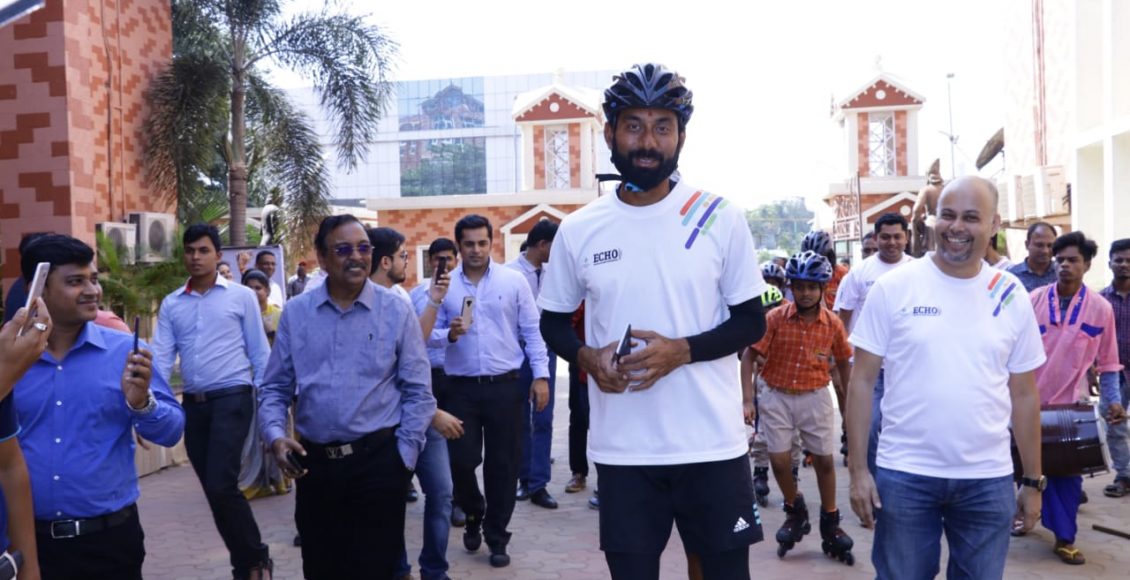 Bhubaneshwar: Titan Company Limited in collaboration with the Tata Group is proud to associate with Rana Uppalapati, Titan's business associate and international skater who kick started his journey on skates to cover the Indian Golden Quadrilateral (all of 6000kms) in the next 90 days. The flag off was at Hosur, Titan's 1st watch factory on 5th September and he has covered Tumakuru, Sira, Chitradurga., Hubli and Belgaum in Karnataka; Kolhapur, Pune, Mumbai in Maharashtra , Bharuch and Vadodara in Gujarat , Delhi, Lucknow, Varanasi, Patna , Dhanbad, Kolkata and now reached Bhubaneshwar. Rana has covered over 4000 kms and has collected funds to support the education of over 9000 girl children.
As part of the 90 days journey, the program will raise funds for the education of underprivileged girl children and create awareness among 6 lakh children on child safety, especially on 'good touch and bad touch'.
On the flag off, Mr Bhaskar Bhat, Managing Director, Titan Company Limited said "This is an exciting adventure that Titan has chosen to be a part of, staying true to our nature of being innovative, disruptive and making a difference along the way. This year that we have chosen, also commemorates the 150th anniversary of the Tata group's founding, a toast to the visionaries who shaped a business institution like no other."
Mr. N. E. Sridhar, AVP & Head, Corporate Sustainability shared his view that, "At Titan, we always look forward to help the underprivileged and ECHO is a noble way to help in girl child education. This is one of our many endeavours to nurture and nourish the society we have grown in. We wish Rana all the best to successfully complete his journey."
Sharing his viewpoint on the occasion, Rana Uppalapati, Titan's Business Associate, said that "It's a great initiative to be a part of along with Titan Company Limited. Titan and I are both passionate about the education of girl child. We also want to do our bit on child safety to educate children, not only girls but also boys on Good touch and Bad touch'.
Additionally, this campaign will also witness organisations like K.C Mahindra Educational Trust Mumbai and IIMPact, Delhi coming together as partners towards whom the funds collected will be disbursed. Both organizations have already partnered with Titan in their ongoing program of remedial education of the girl child. Titan is also associating with CII-Young Indians and their Project Masoom for training on child safety. CII-YI and Titan will carry out 6000 awareness sessions for children on 'Good Touch and Bad Touch' as part of ECHO programme. The logistics for Rana's journey will be taken care of by "You too can run".