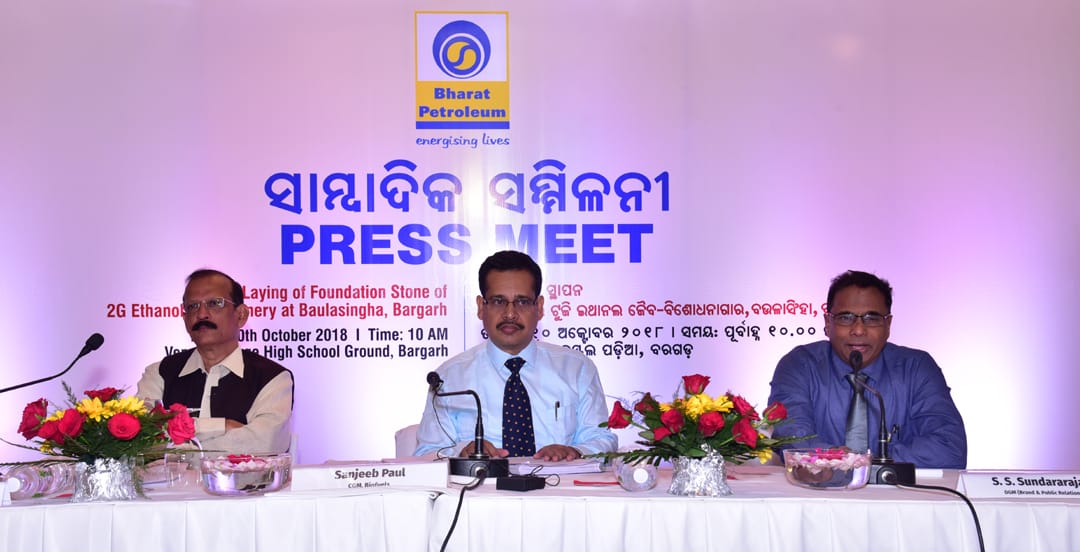 Hon'ble Governor of Odisha Professor Ganeshi Lal to lay foundation stone for Second Generation Ethanol Bio-Refinery at Bargarh On Oct 10
Bhubaneswar: Foundation Stone for Second Generation (2G) Ethanol Bio-Refinery of Bharat Petroleum Corporation Limited, which is being set up at Baulsingha Village, Bhatli Tehsil, Bargarh district, Odisha, will be laid on 10th October 2018 by Hon'ble Governor of Odisha Professor Ganeshi Lal, in the esteemed presence of Minister of Petroleum & Natural Gas and Skill Development & Entrepreneurship Shri Dharmendra Pradhan and other dignitaries addressed in a press meet held here. The press meet was addressed by Shri Sanjeeb Paul, CGM, Biofuels, Shri Debashis Palit, State Head, Retail (Odisha & Jharkhand) and Shri S. S. Sundararajan, DGM, Brand & Public Relation.
This Bio-Refinery will have a capacity to produce three crore litres of fuel grade Ethanol annually using Rice Straw as feedstock and the Ethanol produced from this plant will be blended with Petrol. The cost of this project is around Rs 1000 crores.
Biofuels have assumed importance recently due to the growing energy security needs and environmental concerns. Several countries have put forth different mechanism and incentives to encourage use of biofuels to suite their domestic requirements. India has surplus biomass availability of about 120-160 MMT annually which if converted has the potential to yield 3000 crore litres of Ethanol annually. The National Biofuel Policy of India 2018 targets 20% Ethanol blending to Petrol by year 2030, however due to non-availability of Ethanol, the current Ethanol blending in Petrol is only around 3% to 4%. Setting up of 2G Ethanol plants will help achieve the target of Ethanol blending in Petrol.
The Bargarh Bio-Refinery will utilize about two Lakh tons of Rice straw annually as feedstock which will be sourced from nearby locations like Bhatli, Ambabhona, Attabira, Sohela, Burla, Lakhanpur etc.
The Bio-Refineries will contribute to cleaner environment due to usage of waste Rice Straw for Ethanol production thereby reducing waste straw burning in fields. Blending of Ethanol in Petrol will also reduce Green House Gas (GHG) emissions as compared to fossil fuels. The plant is based on Zero-liquid discharge plant (ZLD) technology where all the water will be recycled back into the plant.
In addition to cleaner environment, this project will also help improve the socio-economic conditions of the farmers due to additional income from supply of waste Rice straw to the Bio-Refinery. Also, this will generate employment for approx.1200 persons (both direct & indirect) during construction, operation of plant & supply chain management of biomass thus boosting the Infrastructural development in the area and overall improvement in livelihood. Further, blending of Ethanol also enhances self-sufficiency of the Nation by reducing crude oil imports thereby saving Foreign exchange.