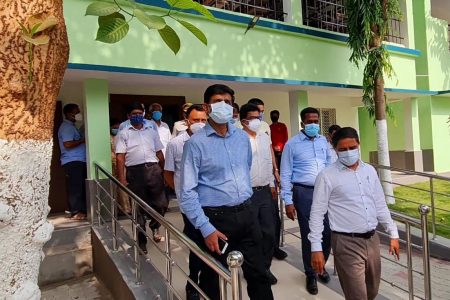 Special Secretary to CM Vineel Krishna Reviews Development Projects in Ganjam
Odisha News Today Bureau:
Special Secretary to the Chief Minister R. Vineel Krishna on Saturday reviewed various development projects being implemented in Ganjam district.The Special Secretary visited different areas in the district to take stock of the ongoing projects.He held a review meeting with the top officials of the district administration and urged them to accelerate the projects for their timely completion.Ganjam Collector Vijay Amruta Kulange, Chatrapur Sub-Collector Priyaranjan Prusty and other officials were present at the meeting.
In Chatrapur, Vineel Krishna reviewed the development of new Hockey Synthetic turf and other facilities at Chatrapur Indoor stadium.He also visited Berhampur to review various projects, including the developmental works at Berhampur Stadium.
Recently, the State Government has sanctioned Rs 37 crore for the facelift of Berhampur Stadium.
The Special Secretary also took stock of progress of Baikunth Nagar Sports Arena in Berhampur.He held discussions with Berhampur Sub-Collector Keerthi Vasan V, BeMC Commissioner Dr. Siddeshwar Baliram Bondar and other officials about the progress of the sports hostel, stadium, swimming pools and other works under construction in the city. He directed officials to complete the of the work.The Special Secretary also visited Hinjilicut to review implementation of various government schemes and development programmes.
During his visit, Vineel Krishna held a special discussion with the PRI members about COVID-19 management and lauded their roles in preventing the second wave of pandemic in Hinjilicut block. Then, he visited to Sheragada block to take stock of various development projects.