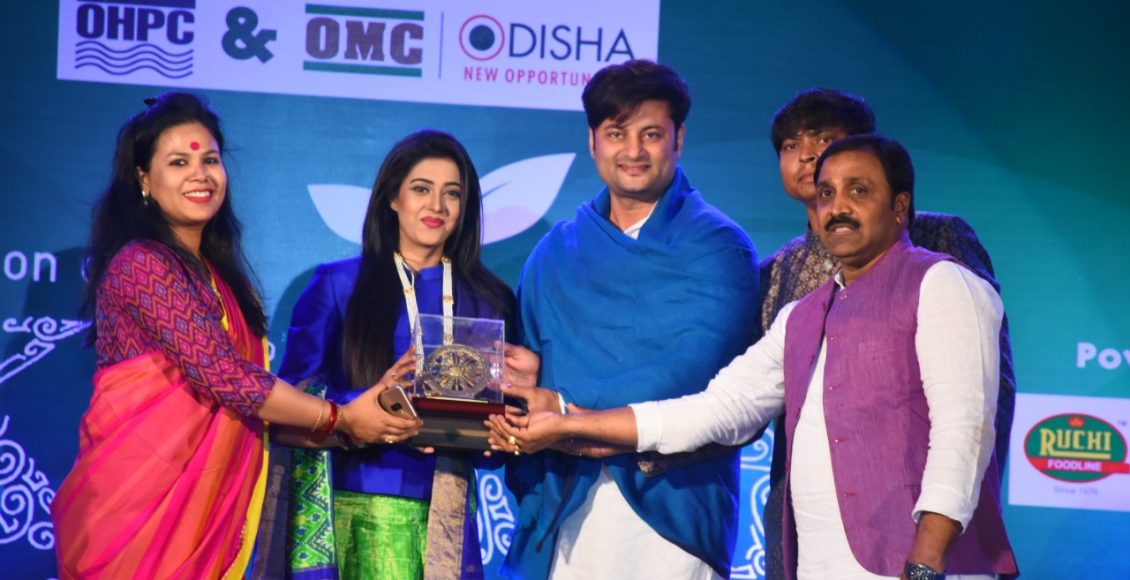 Parichay Foundation organised the 3rd Edition of Kiah Fashion Show 2018
Bhubaneswar: The third edition of Kiah Fashion Show organised by Parichay Foundation at Mayfair Lagoon, Bhubaneswar stood out for more than one reason. The fashion show was organised for a cause to raise funds for Parichay's flagship programme, Alaknanda scholarship programme for drop-out girl students.
With the upcoming hockey fever, legendary hockey star Dilip Tirkey as well as the former captain of Indian Hockey Team joined the cause to walk the ramp along with eminent hockey players from the state even as slum women empowered by Parichay Foundation sashayed the ramp with confidence along with all of them.
Dilip Tirkey said "This is a great initiative by Parichay Foundation. With the hockey world cup coming up, I am privileged to be a part of such a cause along with other hockey players from Odisha. Not only has Parichay done its bit to promote hockey, it has also raised funds for the education for underprivileged children and given a feeling of empowerment to these slum women, who have overcome many challenges in life to stand on their own feet with the help of Parichay Foundation. I want to congratulate Smt Rosalin Patsani Mishra for this. "
Celebrity Power couple Anubhav Mohanty and Varsha Priyadarshini also walked the ramp along with other celebrity pairs- Rinki Sarita Patnaik (Mrs India Worldwide 2017-18) along with designer Ramauli who designed all the outfits for the show as the fashion partner for the event, Satavisa Das (World Junior Model International) and Epari Shivam, selected for little model earth, Mrs Pritha Agarwal & Mr Kamal S Agarwal ( M.D PGL Group) ; Amrita Bharati Panda( Indian Idol 6 contestant & playback singer) & Anurag Panda (Founder & MD Amuser Talents & Entertainment Pvt Ltd), Mrs Sonia Ratho & Mr Satyabrat Sanu Ratho (Director Prelude & Editor My City Links) and Odisha Based Fashion bloggers, sister duo Luma Rath & Leesha Rath.
That apart, RJ Smita, Red FM (Radio Partner) and Junthi Hota, MD, Headturners (Styling partner) and Sambit Satpathy and Shaswat Satpathy, Estetica (Gift Partner) also walked the ramp.
Ollywood playback Singer Debashish Mohapatra gave a special performance and enlightened the evening with his musical show.
Founder, Parichay Rosalin Patsani Mishra said, "I want to thank everyone who has helped to make this programme such a big success, particularly those who walked the ramp. This entire event is very close to my heart as through this, we manage to raise funds for the education of drop-out girl students who want to study. We have already adopted and trained two batches of over 60 students and made them appear for their matriculations exams under NIOS and I am happy to share that the results are very encouraging. We want to ensure that these girls complete their education and also get placed in jobs in near future with our help."
Parichay is also grateful to all sponsors and partners for supporting the event. The event was powered by Ruchi and Frozit. It's Coffeekery, our gold sponsor; Milk Mantra, Kingston Business Parrk, Epari, and SJ Developers, our silver sponsors; Estetica, our gift partner; Head Turners, our Stylish partner, Ramuli Creations, Fashion Partner; Lumsleesh Diaries, Our Blogging Partner, Red FM 93.5, our Radio partner, Asianbuck, our Digital Media Partner. The entire event was managed by Prelude.