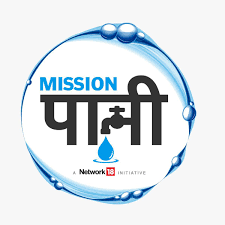 "We have a beautiful coastline in India and should create awareness to not dump waste in water,"says sand artist Sudarsan Pattnaik on the occasion of Waterthon, hosted by News18 and Harpic's Mission Paanion Republic Day
o India's leading policymakers, celebrities and corporates celebrated water heroes
o Mission Paani launches a 'Water Curriculum for school children
o The 8-hour long Waterthon addressed the criticality of water for hygiene
Odisha News Today Bureau:
For Sudarshan Pattnaik, the bond between him and water is an immensely close one. After all, you'll always see the popular sand artist from Odisha leave us in awe with one creative design after another on the shores of Puri. Speaking on the occasion of Waterthon, an 8-hour long virtual event part of News18 and Harpic's campiagn Mission Paani, Sudarshan rooted for the cause of water conservation and brought to light the importance of saving the country's beautiful coastline. That's not all, he lent his support to the purpose-driven initiative and spread awareness on Waterthon in his trademark style by making the Mission Paani logo using 8 tons of sand.
Speaking in a live conversation with Akshay Kumar, campaign ambassador for News18 and Harpic Mission Paani, Sudarshan Pattnaik, commented, "We have such a beautiful coastline in India and we should all try to build awareness among the people to not dump waste in water. I thank the government of India for the Blue flag initiative, after which people have become more aware than before and they try to keep the beaches clean."
India's largest Waterthon witnessed a series of thought-provoking sessions deliberating on efficient solutions and the need to prioritize efforts towards water conservation. Amidst much fanfare, Harpic Mission Paani launched a special 'water' curriculum for school children. The curriculum highlights the importance of water to maintain hygiene and conservation.
Host of notable personalities such as Gajendra Singh Shekhawat — Minister of Jal Shakti, Department of Water Resources, RD & GR, Dr. Harsh Vardhan — Union Minister for Health & Family Welfare, Science & Tech, Earth Sciences, Govt. of India, Ramesh Pokhriyal 'Nishank' — Minister, Human Resource Development, Government of India, Smriti Irani — Union Cabinet Minister for Textiles and Women & Child Development, Nitin Gadkari — Minister of Road Transport & Highways, Micro, Small & Medium Enterprises Govt. of India along with celebrities like A.R. Rahman, Mallika Sarabhai, Prasoon Joshi, Sadhguru, HH Chidanand Swami, Rajkumar Rao, Mandira Bedi, NehaDhupia, Dia Mirza, Gul Panag, Bhumi Pednekar, Vishwanathan Anand amongst others celebrated the journey and impact of the News18 and Harpic Mission Paani campaign. The live event featured song and dance performances by Esha Deol in the opening dance act followed by Malini Awasthi, Shaan and the evergreen Indian Ocean.
Water is precious. Every drop counts. Every effort matters. Let's all pledge together for a more equitable, more sustainable tomorrow, by focusing on water as well as hygiene.