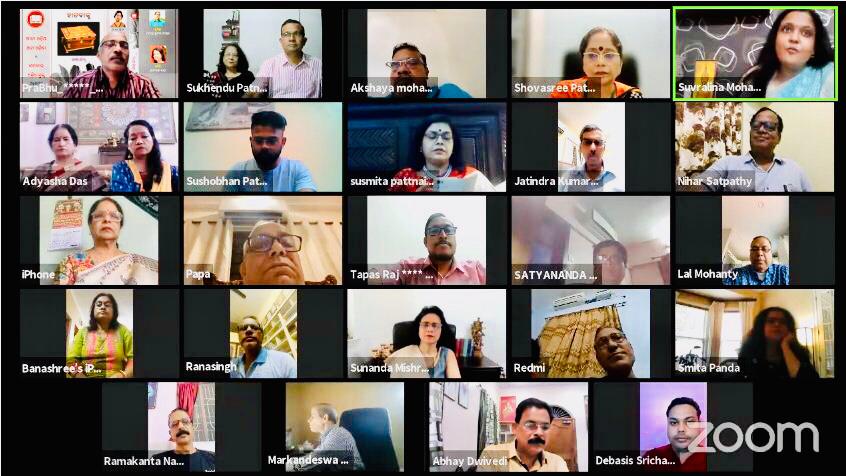 Kathakar Audio Books Celebrates Golden Jubilee Edition
Odisha News Today Bureau:
When the whole world is surrounded with pessimistic vibes due to corona crisis, the Kathakar Audio Books (KAB) has been spreading the literature of pleasure and positivity, observed noted writer Dr. Prativa Ray. Speaking during the online release of Golden Jubilee Edition of KAB as Chief Guest, Dr. Ray appreciated the effort of KAB's Founder Sukhendu Patnaik in distributing hope and happiness among the listeners not withstanding the odds and obstacles all around. Dr. Ray exudes confidence that the Audio Story will be much beneficial for the blind, illiterate and people not able to read Odia language. Dr. Ray congratulated KAB for its noble initiatives to infuse interest towards Odia language and literature among the younger generations through this innovative medium.
The Mega launching ceremony was organised by KAB and 'Ame Odia – Ama Odisha' organisation jointly. Addressing the Web meeting the founder of KAB Sukhendu Patnaik informed that KAB proposes to produce 100 Audio stories in 100 weeks basing on the literary master pieces of Odisha. Inspite of the vastness of Odia literary works, the readers invariably face troubles in locating their choicest books, he added. Keeping this predicament in mind he thought of floating KAB in July 2020, Shri Patnaik said.
The audio story entitled 'Love Letter' written by Dr. Prativa Ray and voice over rendered by her daughter Dr. Adyasha Das was uploaded for public listening during the occasion as the fiftieth offering of KAB. Throwing a bird's eye view on the storyline of 'Love Letter', Dr. Adyasha Das explained that the sensitive, serene and sublime relationship between a mother and daughter has been well captured and very nicely depicted in the piece. Two documentaries on the life and philosophy of Dr. Prativa Ray were shown during the webinar.
Delivering his speech, the Chief Speaker Renowned Literary critic Jatindra Kumar Nayak, highlighted on the widespread creative expertise and excellence of Dr. Prativa Ray. Particularly pointing at the articulation of miraculous relationship between human beings and lifeless things and conceptualisation of transmitting life into them in Dr. Ray's works, Shri Nayak described these as some of the unique facets of her writings.
Prominent organiser of the Mega literary event Akshaya Mohanty appealed Dr. Prativa Ray to produce an audio book on her writing and voice.
The programme commenced with the blowing of auspicious conch by Nalini Prava Pattnaik. Silence was observed in the memory of Prativa Patnaik after Suvralina Mohanty paid glowing tribute to the departed soul. Presenting welcome address Founder of 'Ame Odia – Ama Odisha', Dhirendra Kar gave a clarion call to every Odia to feel proud and express prideness for our rich heritage and vibrant culture. Vote of thanks was proposed by Shovasree Patnaik. The special attraction of the celebration was a scintillating Bhajan recital by celebrated singer Kailash Baishnab, invoking Debi Subhadra.
The entire proceedings of the marathon literary session was well co – ordinated and masterly presented by Ace Anchor Prashant Bhuyan.
Distinguished dignitaries present include Lal Mohanty, Satya Patnaik, Nihar Samantara, Nihar Satapathy, Om Prakash Mohanty, Mrinalni Padhi, Tapas Raj, Susmita Pattnaik, Susmita Das, Sushree Mohanty, Rosalin Das, Chandrasekhar Khuntia, Sunanda Mishra Panda, Lipsa Mohanty, Nalini Patnaik, Chandra Mishra, Markandeswar Panda, Budhinath Padhy and J.P.Jagdev.