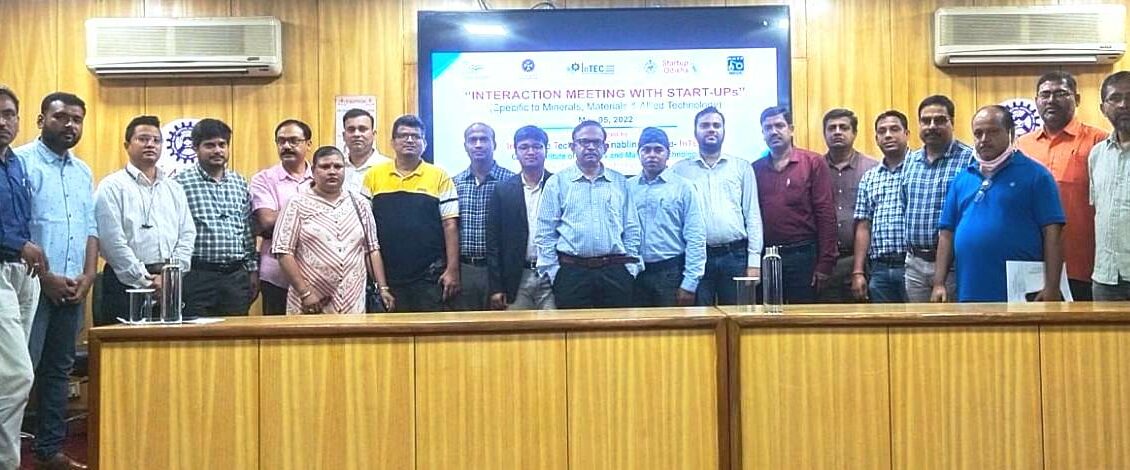 Interaction Meeting with Startups at CSIR-IMMT
Bhubaneswar: Institute of Minerals and Materials Technology(CSIR -IMMT) in association with Innovative Technology Enabling Centre (InTEC) has organized an interaction meeting with startups today here at its Campus. 10 Odisha based 1 Tamilnadu based startup attended the meeting. Prof Dr. Suddhasatwa Basu Director, CSIR-IMMT, Dr A K Sahu, Chief Scientist, CEO – InTEC, Dr T Pavan Kumar, Senior Scientist, Manager – InTEC, Dr B S Jena, Head – PME, Dr S M Mustakim, member TBAC – InTEC, Member Dr. B. Pradhan, NRDC, Start Up Odisha, MSME-DI India are the organizations interacted with the entrepreneurs. The entrepreneurs shared about their startups initiatives and the challenges they are facing in developing the business module.
IMMT is providing incubation center to startups, Give them space and infrastructure or their initiative. From various field like technology, Agriculture, drones, hospitality, battery, block chain, mineral ore processing, skill Asia, waste management, integrated resource management startups participated in this meeting.
An Incubation center has been established for translation of innovation technology into successful business ventures through intervention of science & technology. It is facilitates in providing incubation support and specialized knowledge and technology framework for translating innovation. It provides conducive environment for scientists to work with external partners or product developments and their commercial exploitation.
Intech has recently started an initiative mentoring Academic interventions for technological research & innovation as part as part of sensitization/outreach & mentoring activity Intech to facilitate the interested organizations associate with us to enhance the academic-research connect and thereby contribute to the innovation ecosystem very effectively.