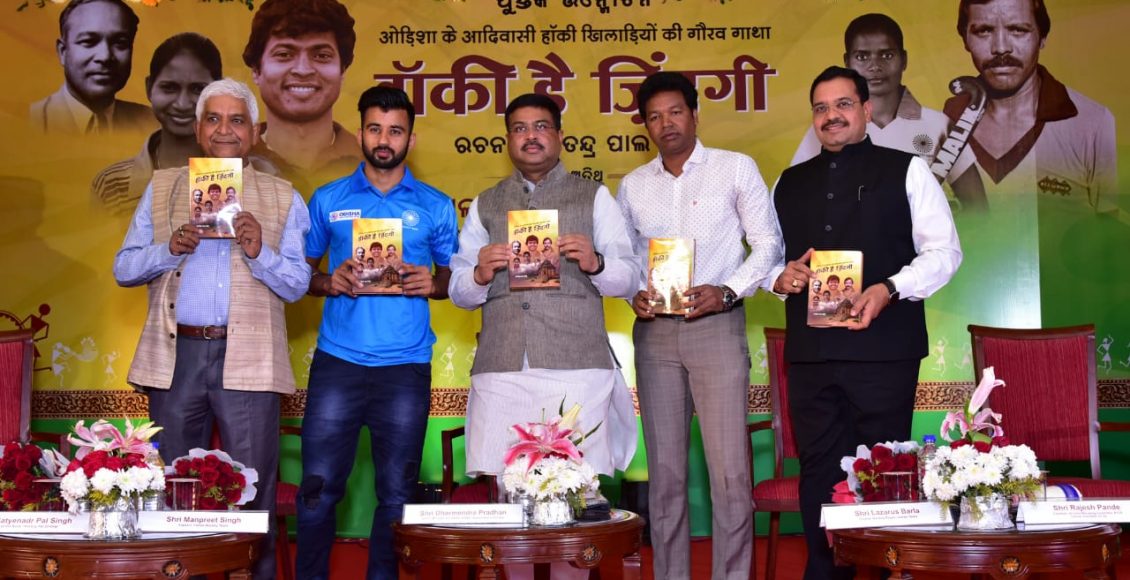 "Hockey Hai Jindegi" Amazing journey of Odisha's Tribal Hockey Players authored by Satyendra Pal Singh unveiled
Bhubaneswar: Union Minister for Petroleum and Natural Gas, Skill Development and Entrepreneurship Shri Dharmendra Pradhan unveiled the book 'Hockey Hai Jindegi' (Amazing journey of Odisha's Tribal Hockey Players) authored by Satyendar Pal Singh at a special programme organised by National Yuva Cooperative Society (NYCS) here. Among others hockey Team India Captain Shri Manpreet Singh, Chairman NYCS, Shri Rajesh Pande, Hockey Olympian, Shri Lazarus Barla, Author and eminent sports reporter Shri Satyendar Pal Singh graced the unveiling ceremony of the book.
Unveiling the book Union Minister Shri Dharmendra Pradhn said, "Odisha players have special place in world sports arena. They bring proud and glory for India for their dedication and commitment. He also said this is a proud moment for all of us to unveil the book during the Hockey World cup. He advises to translate this book in both Odia and English languages.
Elaborating the motivation behind to write the book exclusively on Odisha's Tribal Hockey Players author Shri Satyendar Pal Singh said Odia hockey players are very shy to talk about themselves. They feel why people will talk about us. But after Dillip Tirkey and Lazarus Barla the scenario of Odisha hockey was changed he said. I have visited Tribal belts of Odisha particularly place like Sundergarh and Rourkela for this book. Through this book, I have made an effort to bring those talents to the limelight and narrated their lives very lively. This book contains interesting stories of many iconic sports talents of Odisha who have registered their claim to fame and yield success with their own efforts though they have struggled a lot since their childhood.
NYCS Chairman, Shri Rajesh Pande said this book will bring the new chapter Odisha Hockey. NYCS feels the sports talent should be nurtured, sports culture should be developed and promoted widely to bring more laurel to the state and country as well.
It may be noted here that, this book is the second book authored by Shri Satyendar Pal Singh who has been associated with the world of hockey very close for more than four decades. Three generations of hockey players in India are heartily related to this author because of his keen interest and love for hockey. This book is the first book based on the Odisha's Tribal Hockey Players.
National Yuva Cooperative Society Ltd. is widely known and recognized as NYCS by the youth of the country. NYCS was formed in 1999 and is registered under the section 7 of the Multistate Cooperative Societies Act 1984. It is registered under the control and directions by the Department of Agriculture & Cooperation, Government of India. The aims and key objectives of organization are empowerment of youth through national events, micro financing, skill development and capacity building training and sports activities.