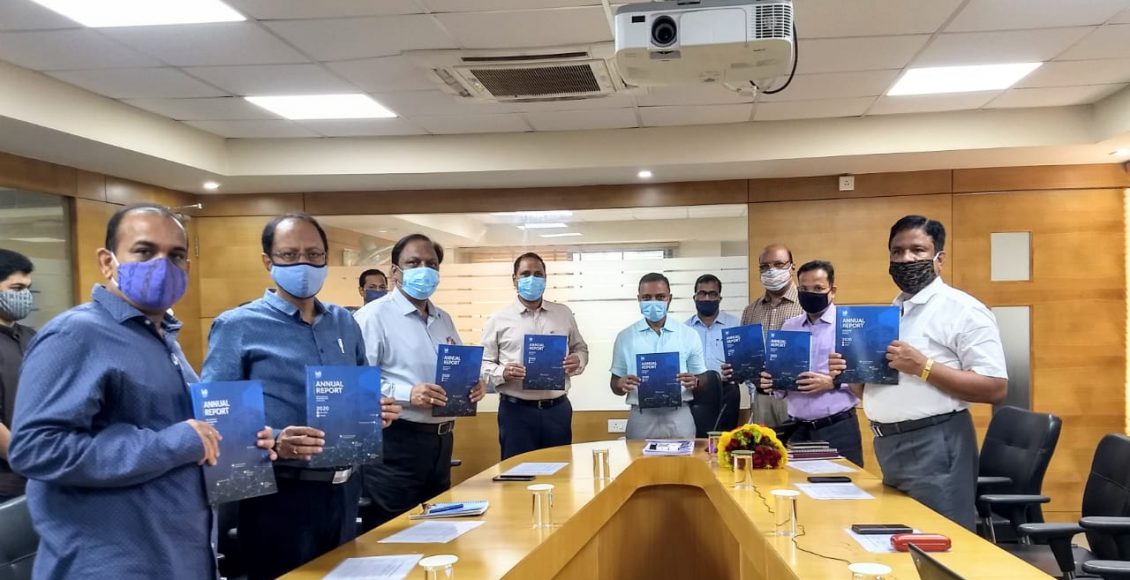 BDA Observes 38th Foundation Day
Focus Laid on More Interaction Between Architects, Planners & Residents To Make Bhubaneswar A Well-planned, Sustainable & Inclusive City
Odisha News Today Bureau:
Making it a low-key affair with adhering to COVID-19 protocols, the 38th Foundation Day of Bhubaneswar Development Authority (BDA) was observed today at BDA office, with release of its annual report and prizes for children of BDA staff who scored above 90 per cent in class X exam.
BDA Vice-chairman Shri Prem Chandra Chaudhary chaired the meeting attended by BDA Secretary Shri Harish Chandra Nayak, Planning Member Shri Gouri Shankar Bhuyan, Chief Engineer-cum- Engineering Member Shri Rajendra Nayak, Allotment Officer Shri Sabyasachi Hota, among others.
Addressing the occasion, BDA VC Shri Prem Chandra Chaudhary, said: "BDA is the leading agency to ensure proper planning in the city to help the city grow in a planned and self-sustainable way. Besides, BDA has been more people-friendly in its approach to addrss various complaints and grivances of public through adopting a participatory method."
He further added: "BDA will encourage more engaging interaction between architects, city planners and residents to make Bhubaneswar a well-planned, culturally vibrant, environmentally sustainable, physically ressilent and people-friendly city in the coming days."
Listing out some major projects undertaken by BDA, Shri Chaudhary informed the Comprehensive Development Plan ( CDP) – 2040 is ready which incorporates child-friendly city planning aspects. Similarly, other projects such as Affordable Housing, online Building Plan Approval System, road networks revamped for improved connectivity, town planning schemes have been introduced with a focus on housing for all.
This apart, BDA has acted as the implementing agency for Bhubaneswar Land Use Intelligence System (BLUIS). The authority is also conducting regular eviction drives to make the city encroachment free.
In order to promote community engagement and creativity, BDA had organised one-of-its-kind 'Park Utsav' at sevral prominent city parks, which went on to become a huge hit among the public.
Likewise, the BDA has played an active role in the developmental works of Odisha Govt's ambitious 'Ekamra Kshetra Amenities & Monuments Revival Action' (EKAMRA) project.
As a leading and responsible city authority, the BDA has lent its helping hand to thousands of needy and migrant workers during COVID-19 lockdown and shutdown period. The officials of the authority had distributed cooked food, dry ration, water bottles to several people stranded in the city.
During the event, Shri Chaudhary also unvelied the BDA Annual Report -2020, which has chronicled the performance of 6 different major branches of the authority and Bhubaneswar Urban Knowledge Centre (BUKC), a technical wing of BDA. The BUKC works in catalysing research on global best practices and planning for innovative projects under Smart City Proposal to make the city more livable.
At the end, the BDA Vice-Chairman feliciated and given certificates to four children of BDA employees, who have secured more than 90 per cent marks in class X examination. The awardees include Jitendra Prusty, Spandan Dash, Sarthak Sovan and Saroj Kumar Baral.