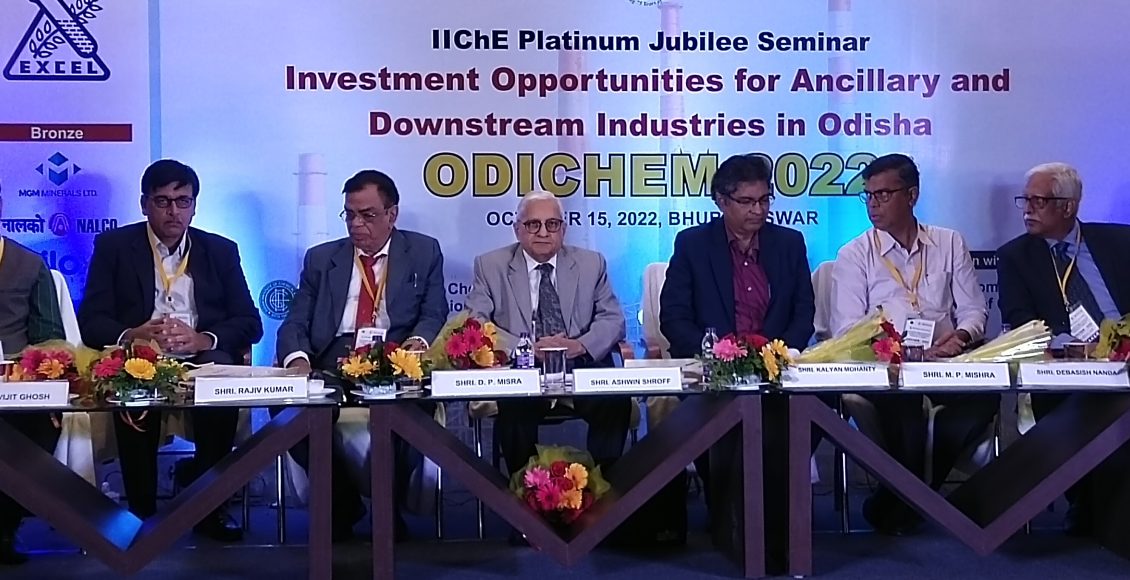 A Seminar on "Investment Opportunities for Ancillary and Downstream Industries in Odisha"
Bhubaneswar Regional Centre of the Indian Institute of Chemical Engineers (IIChE-BRC), in association with Industrial Promotion and Investment Corporation of Odisha Limited (IPICOL), has organized a seminar, ODICHEM-2022, on the theme "Investment Opportunities for Ancillary and Downstream Industries in Odisha" today at 2022 at Hotel the New Marion, Bhubaneswar. Around 150 delegates from industries, academia, and R&D organizations attended the seminar.
The Chief Guest, Shri Pratap Keshari Deb, Hon'ble Minister for Energy, Industries, and MSME, Govt. of Odisha, inaugurated the seminar in presence of dignitaries and guests.
Shri Deb expressed that today Odisha is a destination of choice for investors across the country. He welcomed all the Industry Leaders, Associations and their members, especially the investors from the metal downstream, chemical and petrochemical sectors to come and explore Odisha as their next investment destination. He added, the youth of Odisha belong to a fraternity which holds certain milestone for the development of our nation and Govt. of Odisha is boosting their confidence by introducing Make in Odisha Programme. This will help the Odisha to be the Industrial Hub till 2036.
The Guest of Honor, Shri Kalyan Mohanty, Executive Director, IPICOL presented before the audience a clear picture of the industrial ecosystem of Odisha, highlighting the proactive measures of the Govt. of Odisha, such as the identification of priority and focus sectors, development of sectoral policies, development of sectoral industrial parks and infrastructure, etc.
Mr. D. P. Misra, The Chairman of the Organizing Committee, also a veteran Chemical Engineer of Odisha and a consultant to many chemical industries, highlighted the possibilities of the Ancillary and Downstream industries around major industries in Odisha in the iron, aluminum, and petrochemical sector.
In this occasion, Mr. Ashwin Shroff, CMD of Excel Industries Ltd. was felicitated for his contribution to the Indian Industrial Sector.
Senior and experienced executives from different industries, such as NALCO, Tata Steel, Coal India Ltd, HINDALCO, Essar Minmet Ltd., JSPL, CSIR-IMMT, SAIL,Vedanta Aluminium,IOCL, IFFCO,and IREL Ltd. presented their deliberations. They primarily focused on the scope for investment in the ancillary and downstream sectors.